April 28, 2020
—
Religious leaders and members from the Hindu, Jewish, Zoroastrian, Buddhist, Taoist, Jain, Christian, Muslim, Sikh and Baha'i faith communities in Singapore affirmed a new pledge to strengthen the nation's social defence during the COVID-19 pandemic.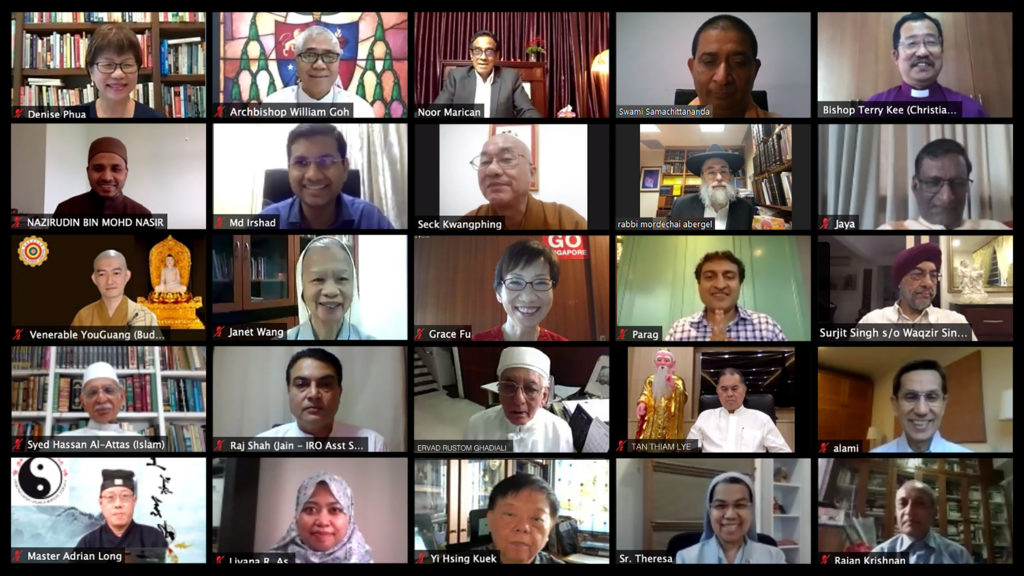 The Inter-Religious Organisation, Singapore (IRO) launched a Social Defence Pledge ("Pledge") during IRO's first-ever online IRO Day 2020 event to mark its 71st anniversary. The Pledge emphasises maintaining solidarity during moments of crisis and is an extension of the 'The Commitment to Safeguard Religious Harmony' which was launched last year at the International Conference on Cohesive Societies.
The Guest-of-Honour, Ms Grace Fu, Minister for Culture, Community and Youth, was among the 100 guests who gathered online to commemorate IRO Day 2020. Minister Fu said, "The IRO has played an important role in fostering inter-religious friendship for over 70 years. During these challenging times, IRO's role has become even more critical. Our religious leaders are showing solidarity by finding different ways of giving hope and comfort to our communities. The fight against COVID-19 will be a long one. By staying united as one people, we will prevail, and emerge stronger from this crisis."
Venerable Seck Kwang Phing, President for IRO, said: "The COVID-19 pandemic has disrupted our lives threatening our health, safety and jobs. While we are taking measures to cope with these issues, we must not be deterred from our long-term efforts to promote religious harmony. Initiatives to strengthen our social cohesion are even more vital now. It is with this intention that the IRO has initiated this pledge. It offers guidance to continue the development of inter-religious understanding and friendship during this challenging period."
IRO has been building online engagement in Singapore over the past two years and continues to do so during the COVID-19 circuit breaker. IRO Youth Wing members organised a video meeting to join Muslim members in the breaking of the Ramadan fast last Friday. IRO regularly conducts online sharing sessions, lectures and interfaith prayers, so as to continue fostering inter- religious understanding and friendship among Singapore citizens and residents.
———-
ABOUT INTER-RELIGIOUS ORGANISATION SINGAPORE
The Inter-Religious Organisation, Singapore (IRO) was founded in 1949 with the objective to promote inter-religious harmony among the various religious groups in Singapore.
Ten (10) religions are represented in the IRO; Hindu, Jewish, Zoroastrian, Buddhist, Taoist, Jain, Christian, Islam, Sikh and Baha'i. A unique rotating annual presidency among the ten religions ensures that all member religions are given an equal opportunity to lead the IRO's long-term efforts. For more information visit
www.iro.sg
———-
For media enquiries:
Nazhath Faheema
General Manager
faheema@iro.sg