The IRO's 70th Anniversary Gala was graced by presence of the Prime Minister of Singapore, Lee Hsien Loong as Guest-of-Honour; IRO Patron, ESM Goh Chok Tong; Minister for Trade and Industry, Chan Chun Sing; Mayor of Central CDC, Ms Denise Phua; Senior Minister of State, Ministry of Communications and Information & Ministry of Culture, Community and Youth, Ms Sim Ann.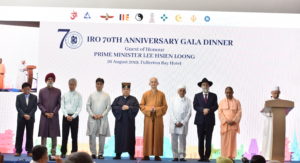 IRO religious leaders, guests and the interfaith community were present to mark the significant occasion with interfaith prayers before dinner together.
The highlights of the evening included the Prime Minister's launch of the IRO digital initiative 'We the People of Singapore' in partnership with Central CDC, and the posthumous presentation of the IRO Award to the late past IRO Patron and President S. R. Nathan, as well as songs of harmony by the IRO Interfaith Children. The IRO Distinguished Donors were presented with tokens of appreciation by IRO Patron, ESM Goh Chok Tong.