The IRO was founded in Singapore shortly after the Second World War in 1949. His Eminence Maulana Mohamed Abdul Aleem Siddiqui visited post-war colonial Singapore early in the year and some 40 personages gathered and heard his message of peace at the invitation of the Muslim Missionary Society. The guests included His Excellency the Rt. Hon. Malcolm MacDonald, the Commissioner General for Singapore as well as representatives of the Buddhists, Hindus, Sikhs, Christians and Jews. They were catalyzed by the success of the occasion and planned to meet again in order to bind a fellowship of peace together.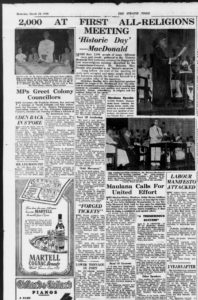 In a series of 2 further meetings in February 1949, the Maulana proposed the formation of a body to represent all religions and a Consultative Committee formed to draft and adopt the constitution of the Inter-Religious Organisations of Singapore and Johore Bahru. The IRO was to be open to leaders and laymen of all the various religions of Malaya with peace and goodwill as its objective.
On 18th March 1949, the IRO's first public meeting was held at the Victoria Memorial Hall, Singapore, before a huge audience of about 2,000. Speeches for religious harmony were given by Rt. Hon. Malcolm MacDonald, the Commissioner General of Singapore, who became its first Patron; Rev. Dr H.B. Amstutz, who was in turn IRO's first President; H.E. Maulana Mohamed Abdul Aleem Siddiqui; Sri Mehervan Singh for Sri Kartar Singh; Swami Vamadevananda of the Ramakrishna Mission; and Sim Boon Hwee for Rev. Sek Hong Choon. Their words were soon published as "The Contribution of Religion to Peace" MPH 1949. This book has since been reprinted in 2014.